Have you heard that our pension fund is in dire straits? Unless you've been living under a rock for the last few years, or have the IQ of a salamander, then you know that the new "crisis" being promoted by Rahm Emmanuel is just another opportunity to burden you and your family with more taxes.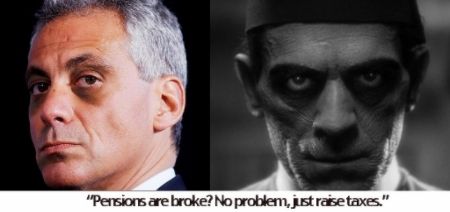 That discussion is for another day - let's talk Pension Board.
Whether our taxes are raised or not, we have an election for Pension Board Trustee coming up. Members will receive ballots in the mail sometime between October 9th to the 12th. The ballots will be counted on October 22nd .
The 3 guys running are Mike Lappe, Michael J. Koszola, and Wilson Fantauzzi. In the interest of full disclosure, I'm a big fan of Mike Lappe. He's done a great job representing our interests on the board.
Your Pension At A Glance
Right now we have $2.8 billion in the Fund, with a current funding level of 27%. Outlays over the next 2 years will be $920 million. These outlays are two parts: 1) Retiree benefits, and 2) Duty Disability payments.
The Fund pays its expenses and stays solvent by investing its assets. Currently the rate of return on its diversified investments are 8 - 12%. Each active member pays 9% into the pension. The Fund receives monthly checks from 12,002 active members, but pays out 13,200. [approx. 9,400 retirees, 3,600 widows, and the rest in disability payouts].
Three years ago Mike was elected to the board.
Before Mike was elected there were 284 police officers in Duty Disability status. Today there are 233.
Under Mike's tenure, the board has saved $9 million dollars.
How? By catching coppers who are scamming the system.
Under Mike's leadership and oversight, 19 officers who were on Duty Disability either went back to work, or retired. Of course they were shown video of themselves working their painting jobs, lifting heavy bags of concrete in their backyards, or water skiing. The Duty Disability system is full of cracks. It was developed to help officers who were injured in the line of duty but like anything else, it gets abused. Especially amongst our ranks are coppers who present with vague and "non specific" symptoms like dizziness, headaches, back aches or general pain. These symptoms are the part and parcel of the Professional Malingerer.
Mike worked hard to get to the nitty gritty in the financials and realized that cutting expenses equated to increasing Fund revenues. With that in mind, he went after the officers who failed to show up for their Independent Medical Examinations (IME). Each IME costs the Fund $1,500. Mike has forced "no show" members to pay that fee out of their own pockets - even making one female officer pay $3,000 for failing to show up at two of her appointments.
Sidebar: Illinois Policy Institute does a phenomenal job tracking the financial Tsunami that is Illinois. They have a very good plan that fixes the pension funds for Police and Fire without raising property taxes. It's here if you're interested.
Answering the Critics
I shook my head when I read the comments at this post over at SCC's blog. The things that my fellow officers choose to focus their energies on bewilder me.
Here's my take on a few:
Charge: "Lappe's not doing anything that IAD wasn't doing 10 years ago."
Fact : IAD only videotapes cases where an officer is being investigated within the parameters of the "Confidential Section" of IAD. The Medical Integrity Unit is supposed to catch coppers scamming the system or violating the medical rolls. The problem with that is there are only 4 or 5 employees at the MIU doing the investigations. Mike's been hiring private investigators at $1,000 per case to catch officers abusing the system - and guess what: It's working!
Charge: "Lappe is close to 63 and if he gets elected he has to step down. Why waste our time?"
Fact : Mike does turn 63 in a year but the Board is considering extending the age up. If that doesn't happen, Mike has a capable replacement to fill his vacant chair.
Charge: "Lappe didn't attend any Board meetings before he was elected 3 years ago so it doesn't matter if Koszola or Fantauzzi didn't either."
Fact : Mike attended meetings on his own time starting 5 years ago and decided back then that someone needed to step up and get involved in our pension fight.
It Matters
Mike's taken the Board in a new direction - a direction that not only looks to protect the active members, but also the retirees. He's going to hold Rahm's feet to the fire if the City balks at funding the pension. A group of attorneys are working with Mike to sue the City if there is a default. You don't have to have a CPA or a finance degree to be an effective board member; Mike's proof of that.
Please consider Mike Lappe for Trustee when you get your ballot this week, and make sure you send it in as soon as possible. Your vote matters.
Don't Be a Slappy, Vote for Lappe!