This is the 50th anniversary of the show
West Side Story
. It opened 50 years ago tonight and considered a classic.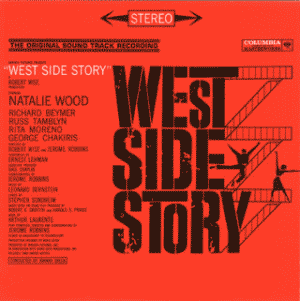 Mark Steyn
, as usual, hits the nail on the head by calling Leonard Bernstein's music "spikey...and tragic."
And the one contemporaneously cool term they deployed - "Cool" - was transformed by Bernstein and his lyricist, Stephen Sondheim, into something with a rare kind of Broadway cool all its own:

Boy, boy, crazy boy
Get cool, boy!
Got a rocket
In your pocket
Keep coolly cool, boy!
Don't get hot
'Cause, man, you got
Some high times ahead
Take it slow and Daddy-o
You can live it up and die in bed!
Boy, boy, crazy boy.
Stay loose, boy!
Breeze it, buzz it
Easy does it
Turn off the juice, boy!
Go, man, go
But not like a yo-yo
Schoolboy
Just play it cool, boy,
Real cool!
Real coolly cool, boy.
Bernstein's score nods towards some of the rhythms of the day - the mambos and cha-chas - but it never sounds like Fifties pop tunes, just unmistakably Bernstein: spikey, finger-snappy, urban ...and tragic.
West Side Story was a regurgitation of Shakespeare's "Romeo and Juliet" with the Sharks and Jets taking over the role of the Montegues and the Capulets. But the movie is timeless and always a good time. As a police officer the part with "Officer Krumpke" is classic. As the cop mouths off to the "delinquents" - the gang members roll off a litany of rationalizations to excuse their horrific behavior.
More here
at wikipedia.